Commitment to sustainability
Responsibility and sustainability are ingrained elements of Better Collective's business model and have been the cornerstone of our organization since its inception in 2004. To Better Collective, focusing on sustainability means securing the ability to continue our economic, social, and environmental practices indefinitely.
Better Collective is a global digital sports media group providing entertaining and engaging platforms for fans of sports and esports. We offer a wide range of sports news, editorial content, bookmaker information, data insights, communities, and educational tools. We are on a mission to excite sports fans through engaging content and foster passionate communities worldwide, while we also want to make sure that fans are better suited to navigate the iGaming world by visiting a Better Collective brand before registering an account with a sportsbook.
Responsibility and sustainability are ingrained elements of Better Collective's business model and have been the cornerstone of our organization since its inception in 2004. To Better Collective, focusing on sustainability means securing the ability to continue our economic, social, and environmental practices indefinitely.
Read our most recent Sustainability Report.
Christian Kirk-Rasmussen
COO & co-founder
Jesper Søgaard
CEO & co-founder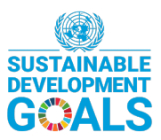 ESG strategy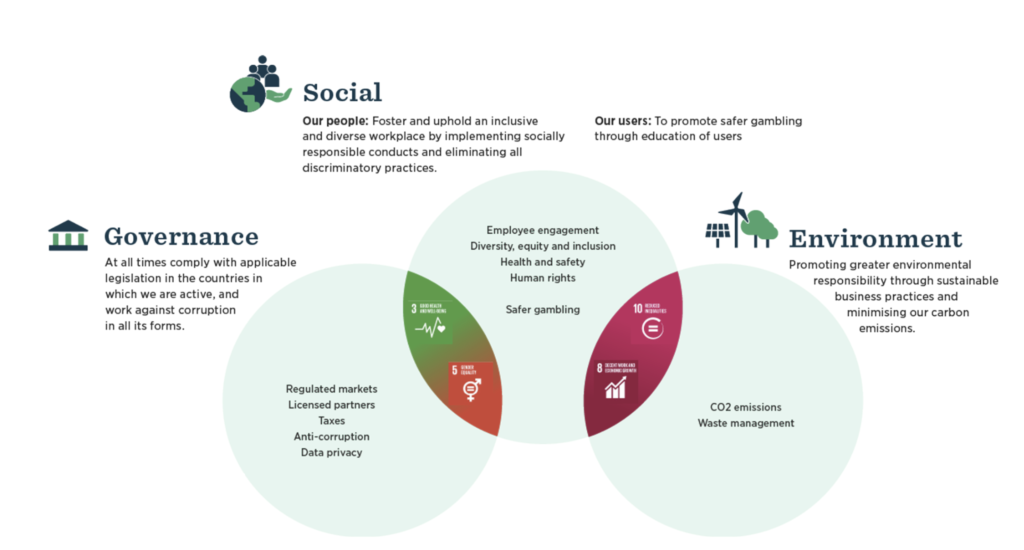 Social
Our people
It is our long-term commitment to foster and uphold an inclusive and diverse workplace by implementing socially responsible conducts and eliminating all discriminatory practices. Our business is based on specialized expertise and innovation, and that is why 'people' are a core element in everything we do. Better Collective sees it as crucial to consistently cultivate an inclusive and diverse workplace that promotes the rights of the individual. These efforts support the SDG 8 in promoting inclusive, sustainable, and productive employment for everyone at Better Collective.
Onboarding and learning
New employees, including those welcomed from acquired companies, are introduced to Better Collective and our policies through an extensive onboarding program.
We conduct biannual development dialogues between manager and employee to discuss performance and further development for each individual employee.
Measuring work culture
We conduct an annual workplace survey to indicate the health and efficiency of work environment and the engagement motivation of our employees.
Health and safety
We give priority to health and safety at work in compliance with the regulations and standards in the countries in which we operate.
We run local health and safety initiatives to assess health and safety risks and to generate preventive solutions.
Diversity, equity and inclusion
We aim to level the playing field through gender awareness in recruitment and retention, equal pay, and equal access to training while upholding a zero -tolerance policy against harassment at the workplace.
Our Diversity, Equity, and Inclusion (DEI) board involves our employees through employee resource groups in these efforts.
Gender distribution
To acknowledge the challenge of being part of a male dominated industry and to further the positive development of SDG 5, diversity and inclusion initiatives are high on our agenda.
Our initiatives include awareness of possible bias in our recruitment processes with e.g. training for hiring managers, job ad terminology, and screening.
Further gender equality
We have joined the All -In Diversity Project which is an industry-driven initiative to benchmark diversity, equality , and inclusion for the global iGaming sector.
We have shown our commitment to gender equality in signing both the Confederation of Danish Industry's (DI) Gender Diversity Pledge along with the UN's Women Empowerment Principles.
Human rights
Better Collective persistently strives to be a responsible corporate citizen, which entails respecting human rights and supporting the protection as well as advancement of human rights.
Tech and marketing academies
Since 2021, we have been running BC academies in Niš, Serbia, which targets the local youth by encouraging them to enroll in one of the education programs tailored by Better Collective.
Safer gambling
Our long-term commitment is to promote safer gambling through education, and only through real attention to safer gambling and responsible business practices can we uphold our social license to operate. As a digital sports media group, we derive a significant part of our revenues from our audiences' engagement in sports betting with our partnering sportsbook. Better Collective views sports betting purely as a form of entertainment and wants to make sure that sports fans and employees' betting experiences remain as a form of fun and entertainment.
Safer gambling resources
We want to ensure that our users are better suited to navigate the iGaming world by visiting a Better Collective website before registering an account with a sportsbook. By taking responsibility in protecting end-users from potential negative health-impacts – in this case gambling addiction – and by promoting mental health and well-being through various initiatives, it is our goal to aid the positive advancement of SDG 3. We offer safer gambling resources on our websites, as well as a Betting Academy to educate users. For our employees, we rolled out an updated safer gambling policy and launched safer gambling training.
Collectively we are better
We strongly believe that the long-term sustainability and growth of the sports betting industry is dependent on responsible operations.
We participate in the Safer Gambling awareness activities across our markets. Similarly, we are active members of various national associations.
Safer customer journeys with Mindway AI
Part of the Better Collective group, Mindway AI specializes in supporting the iGaming industry with various safer gambling tools and solutions.
Mindway AI is an award-winning company that develops state of the art software solutions for fully automatic monitoring and profiling of gamblers and for identifying, preventing, and intervening in at-risk and problem gambling.
Early detection of at-risk and problem gambling
Mindway AI partners with sportsbooks and leading industry organizations with a clear mission to improve player protection in the gambling industry.
By combining neuroscience, AI and human expert assessment, the safer gambling software helps operators meet and exceed player protection requirements.
Gamified reinvention of the self-test
Gamalyze is an award-winning, gamified reinvention of the self-test, making self-testing more user-friendly, engaging, and actionable than typical player questionnaires.
Gamalyze helps players develop self-awareness of their risk profile and their decision making when they engage in gambling.
Mindway AI's expertise and tools
Mindway AI and Better Collective share common goals for safer gambling, and while Mindway AI is run as an independent business, we make good use of the expertise and tools available when offering safer gambling resources on Better Collective platforms.
Gamalyze is available to our users on key websites together with insightful articles on safer gambling authored by Mindway AI experts.
Governance
Good governance is essential in running our business responsibly and meeting the ambitious goals. The governance of Better Collective's sustainability efforts defines the role of the board of directors and its committees and specifies the powers the board delegates to group management. To further our sustainability agenda, we have put in place a DEI board and a safer gambling board to address these matters across our organization. It is our long-term commitment to comply with applicable legislation in the countries in which we are active, and work against corruption in all its forms. At Better Collective, we believe that corporate sustainability starts with our value system and a principles based approach to doing business.
This is reflected in our business ethics where we conduct business in compliance with applicable laws, regulations, and standards. We are subject to a variety of national compliance regulations in the countries where we operate, and to aid in developing a sustainable iGaming environment we solely operate in regulated markets or markets where sports betting is accepted by the authorities. We seek to develop editorial guidelines, which ensure balanced and compliant marketing messages and include proper segmentation for our activities across different channels, using marketing technology to avoid targeting the wrong audience.
Markets
Regulations of markets
As sports betting becomes more widespread, more countries are amending or implementing new gambling laws and regulations to protect users and to limit black market activities.

We have processes for being continuously updated on regulation and applying for licenses where relevant.
Compliance
Commitment to compliance
We seek to educate regulators, politicians, and users on what performance marketing is, what it entails, and to ensure that relevant standards are set for our industry.

We do not engage in cryptocurrency payments. When partnering with operators and reviewing acquisition targets, it is an integrated part of our due diligence process to pay careful attention to any signs of money laundering or fraud – in case of which we choose not to engage.
Corruption
Anti-bribery and corruption
Better Collective condemns the acts of corruption and bribery. Not only are they illegal; they also pose a threat to our trustworthiness and a risk to our partners, users, and authorities.

Our whistleblower scheme facilitates anonymous reporting, and we encourage all employees to speak up if they find something to be in breach of our policies.
Markets
Code of Conduct
Throughout our organization we promote our Code of Conduct as a guide for all employees on the standards and values of a compliant and responsible business.

Our efforts within governance advance overall sustained, inclusive, and sustainable economic growth while they also secure full and productive employment and decent work for our employees – all of which support SDG 8.
Environment
Better Collective has always been committed to making responsible decisions across all operations – this is also the case when it comes to our impact on the environment. It is our long-term commitment to implement a precautionary approach to environmental challenges and minimize our carbon emissions. As we are an online business, our environmental impact is relatively small. Climate changes generally pose little risk to our current and future operations as we have no physical supply chain, and as such, we can operate almost anywhere. Still, we aim to minimize our carbon footprint and we are working towards setting a reduction target.
Materiality assessment
At Better Collective we primarily focus on topics deemed the most important to our business operations. These topics have been selected and prioritized based on a double materiality assessment performed by Better Collective's management and the sustainability board. The assessment is carried out as a mix of desk top research, internal workshops, questionnaires and dialogue over time with primary stakeholders for sustainability, and the board. We consider our stakeholders for sustainability to be our shareholders, our partners and sports fans, our employees, regulatory authorities, and society as a whole. Our materiality assessment takes into account our activities' potential negative affect on society and vice versa.