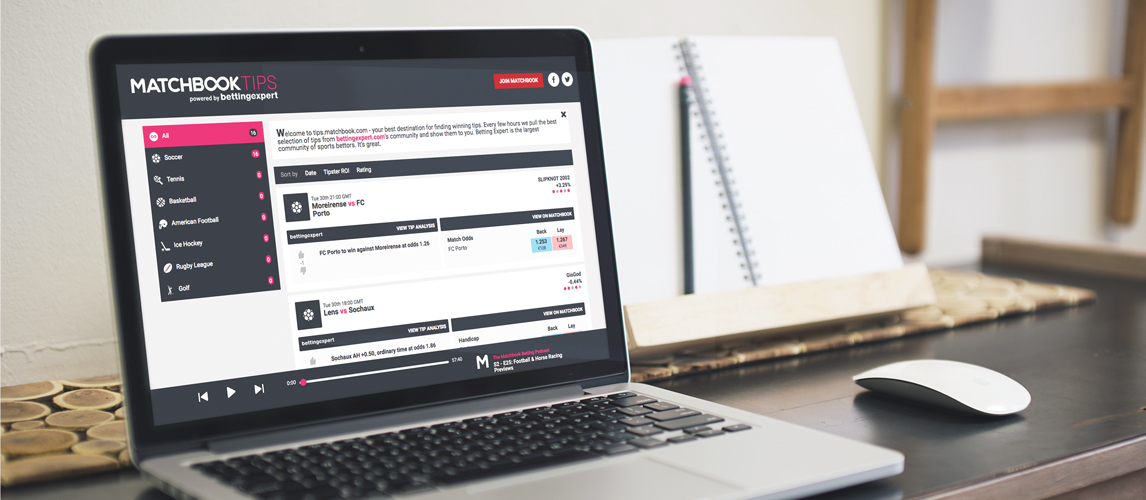 Partnership with Matchbook marks unique industry first Operator/Affiliate collaboration
Better Collective is partnering with Matchbook to bring their bettingexpert.com Tipster API onto the popular betting exchange.
Including bettingexpert.com's Tips API on Matchbook meaning users gain access to vast quantities of trusted and up-to-date tips on Matchbook's active markets.. Users can now seek advice and view new opportunities before placing their bets. Additionally, this feature offers filters such as Tipster ROI's, providing users with an objective view  of the highest quality tipsters and tips that are being posted by the international tipster community on bettingexpert.com.
From the side of Better Collective, this is seen as a revolutionary step for the role of the affiliate in the igaming industry. The ability to host their trusted tips on an operator platform is a proof point for the value that affiliates can provide. As a trusted third-party for tips, the bettingexpert.com brand name, which represents honest and transparent tips, is a source for unbiased information that promotes educated and researched bets. This defining aspect of bettingexpert.com tips is something that can not be earnestly replicated independently by operators due to the nature of their own business models. This industry-first partnership exhibits how the collaboration between operators and affiliates can create value for all stakeholders involved.
Jesper Søgaard, Founder and CEO of Better Collective: "We are excited about our partnership with Matchbook, and proud that our continuous technical innovation can contribute to redefining the evolving role of the affiliate. We hope that this is just one of many more steps that demonstrate the value of the affiliate in our industry."
"A collaboration like this would not be possible without the amazing community of tipsters on bettingexpert.com. We are truly grateful for their engagement, and are happy that their expert knowledge and advice are now extending onto other platforms–helping educate more punters and giving them more confidence in their betting."
Neil Campbell, CMO at Matchbook: "We couldn't be more pleased to partner with Better Collective. They've created a strong community through bettingexpert.com and with this first-of-its-kind partnership, we're able to extend this value to our customers.
"Matchbook is always looking for new and innovative ways to deliver value to its customers, and we believe hosting bettingexpert.com tips conveniently on our platform will give them a competitive advantage."
About Better Collective
Better Collective's vision is to empower iGamers through transparency and technology—this is what has made them the world's leading developer of digital platforms for betting tips, bookmaker information and iGaming communities
Better Collective's portfolio includes more than 2,000+ websites and products. This includes bettingexpert.com, the home of tips from expert tipsters and in depth betting theory, SmartBets, the odds comparison platform made personal, and BetBehind, the automated betting platform powered by tips from bettingexpert.com.
About Matchbook
Matchbook is a peer-to-peer betting exchange designed for smart bettors who want more value. Offering high-limit markets and low commissions, Matchbook returns maximum value to bettors, providing a competitive advantage over betting with a bookmaker.
Committed to improving each individual's betting experience, Matchbook helps bettors make smarter, more informed bets by providing educational tools such as Matchbook Insights, the Matchbook Betting Podcast and the Matchbook Traders Conference
Matchbook is licensed and regulated by the Alderney Gambling Control Commission and the UK Gambling Commission.
More information is available at www.Matchbook.com